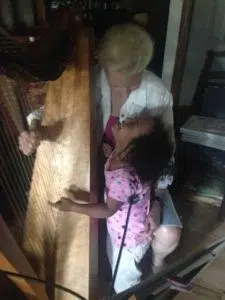 Three years ago our daughter Zoe had six months of seizures and destructive brain waves.  We didn't know if she'd make it out.  We didn't know if we would make it out.  Our lives froze there for a moment.
And then the smoke cleared, and we were all still standing.
That Christmas healing was a miracle to me.  I still think about it when we put up the tree.  God is the master of story.  His artistry is in the span between where we are and where we are going.  The best stories have the biggest gaps… the most at stake… the ending that makes you catch your breath… not always happy, but always worthy.
Are you in a season of peace and hope right now… or one of despair and fear?  The greatest tribute we can give is to live both the hard and the good with a certain fierce joy.  He did it first.
This time of year we remember the most powerful comes to earth as the weakest, and when it looks like he didn't make it – he gives us the best ending of all.  Thank you for supporting Praise 106.5 and the music that brings hope to so many families like ours.
Merry Christmas.  Love,
Sam