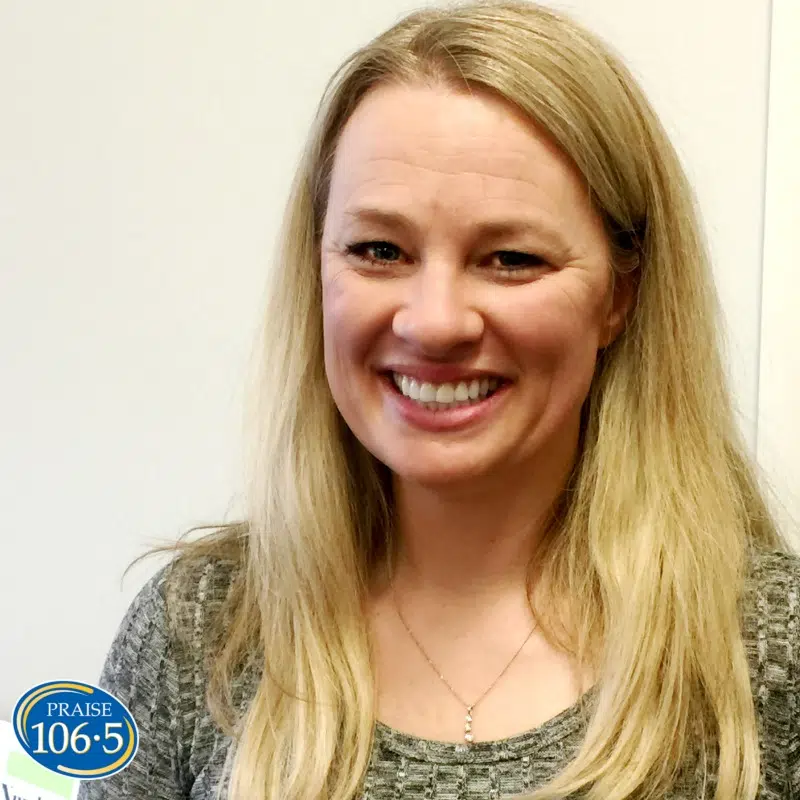 This week's Gold Star Teacher is Anna Whelan, from Assumption Catholic School!
Nominated by Kelly Segel:
Mrs. Whelan is a Kindergarten teacher at Assumption School in Bellingham and my daughter's Kindergarten teacher. We want to recognize her outstanding commitment to her students and parents. Her energy and faith filled teaching are remarkable. She works her heart off. My daughter comes home each day looking forward to the next day because of her fun loving learning environment she has created in the classroom. Her compassion and kindness are transparent in every interaction between students, parents and faculty. When it's the end of the day she never cuts it short with anyone. She puts 110 percent in all her teaching. Our students are blessed beyond to have her. She is astonishing!!!

Nominated by Lisa Twining:
Mrs. Whelan is an amazing teacher who goes above and beyond for each and every student that walks into her classroom. My daughter has been in her class since the beginning of the year and she can't stop talking about how great and smart and kind and silly Mrs. Whelan is. Since the start of the year I have also noticed how much my daughter has learned from writing her letters to starting to read, to number sense and building volcanoes for the science fair. Mrs. Whelan teaches to all learning styles and keeps parents up to date with her classroom app. I have been in her classroom many times to help, and love what I see each time. She brings such positivity to the students and fills them with confidence. She devotes a great deal of time and energy into her students, and many times you will see her working on the weekends to better herself and students. Not only is she amazing in the classroom, but she is always willing to help or participate in our extra curricular activities. For example, she played in our school's alumni vs teacher game. The students were so proud of Mrs. Whelan stepping up to play. Mrs. Whelan meets and goes above the qualities of a Gold Star teacher. She is the teacher that you would want your child to have year after year. My daughter is always excited about school and can't wait to start each day with Mrs. Whelan.

Nominated by Sarah Robinson:
Mrs. Whelan has the most energy and enthusiasm that I have ever seen in any elementary school teacher. She is always smiling and laughing with the kids. Her playful kindergarten techniques have the kids loving to learn! My son loves kindergarten and writing and learning to read! Mrs. Whalen is a huge Dr. Seuss advocate and can really help kids learn to love reading. We adore her and she deserves to be recognized for her amazing dedication.

Nominated by Stephanie Wolf:
My children have been so blessed to have Mrs. Whelan as their Kindergarten teacher. You simply don't find better. This is a woman who is not only passionate about teaching, but who genuinely loves and enjoys the children in her class. She absolutely radiates this love and joy and the kids notice! Mrs. Whelan patiently works ensuring every single child is where they need to be academically (Kindergartners leave her class as readers) and tends to their emotional needs as well. My current kindergartner (son) has had a few instances at school that could have resulted in a hit to his confidence, but Mrs. Whelan notices, and makes sure he feels secure – she's always giving the kids a boost. She communicates regularly with parents, keeping us informed when our student does something great, where they have room to grow, and just the general fun they had that day while learning. She actively uses technology in the form of the SeeSaw App which allows the parent to see what their student is doing and learning that day. The kids love sending videos home, showing themselves reading, doing math, building ramps, etc. Anna Whelan accomplishes all this while maintaining a fun, organized classroom and the highest standards of respect (for self and others) and courtesy toward each other. I can't say enough wonderful things about this teacher or the positive role she has played in the lives of my children.

Nominated by Hilary Schwandt:
Mrs. Whelan is an awesome kindergarten teacher – she cares so much about every student in her classroom and works hard to make sure they are learning, and enjoying learning, every day. She has been an amazing teacher for our daughter and we couldn't be more pleased with her progress during this important year. She definitely deserves this award!

Nominated by Devin Wolf:
Mrs. Whelan is an amazing teacher. She makes class fun for the kids, invests in them, and truly cares about their well being. My son was struggling with starting to read. He was getting frustrated and didn't want to try anymore. She reached out to us, we met and built an action plan. After sticking to the plan he is getting better every day and has the confidence to keep trying.

Nominated by Anne Patelli:
Amazing Kindergarten teacher who goes above and beyond for her students. She makes every day fun yet filled with learning for her students.

Nominated by Christina Brumley:
Best Kindergarten Teacher ever! She is truly one of the most passionate teachers I have ever met. I am so happy my daughter is starting off school with such an amazing teacher.

Nominated by Beverly Williams:
Mrs. Whelan is the best Kindergarten Teacher! She puts in endless hours and effort in making each and every day memorable, fun, and educational! The students learn through interactive activities and the latest technology.  She loves each and every child with her whole heart and her passion is evident by all parents! Our school is so grateful for her and her dedication to the students and families. She is truly a remarkable Kindergarten Teacher!
PRAISE wants to help recognize your awesome K-12 teachers through Gold Star Teacher! Nominate your favorite K-12 teacher today!